Rani und Shanti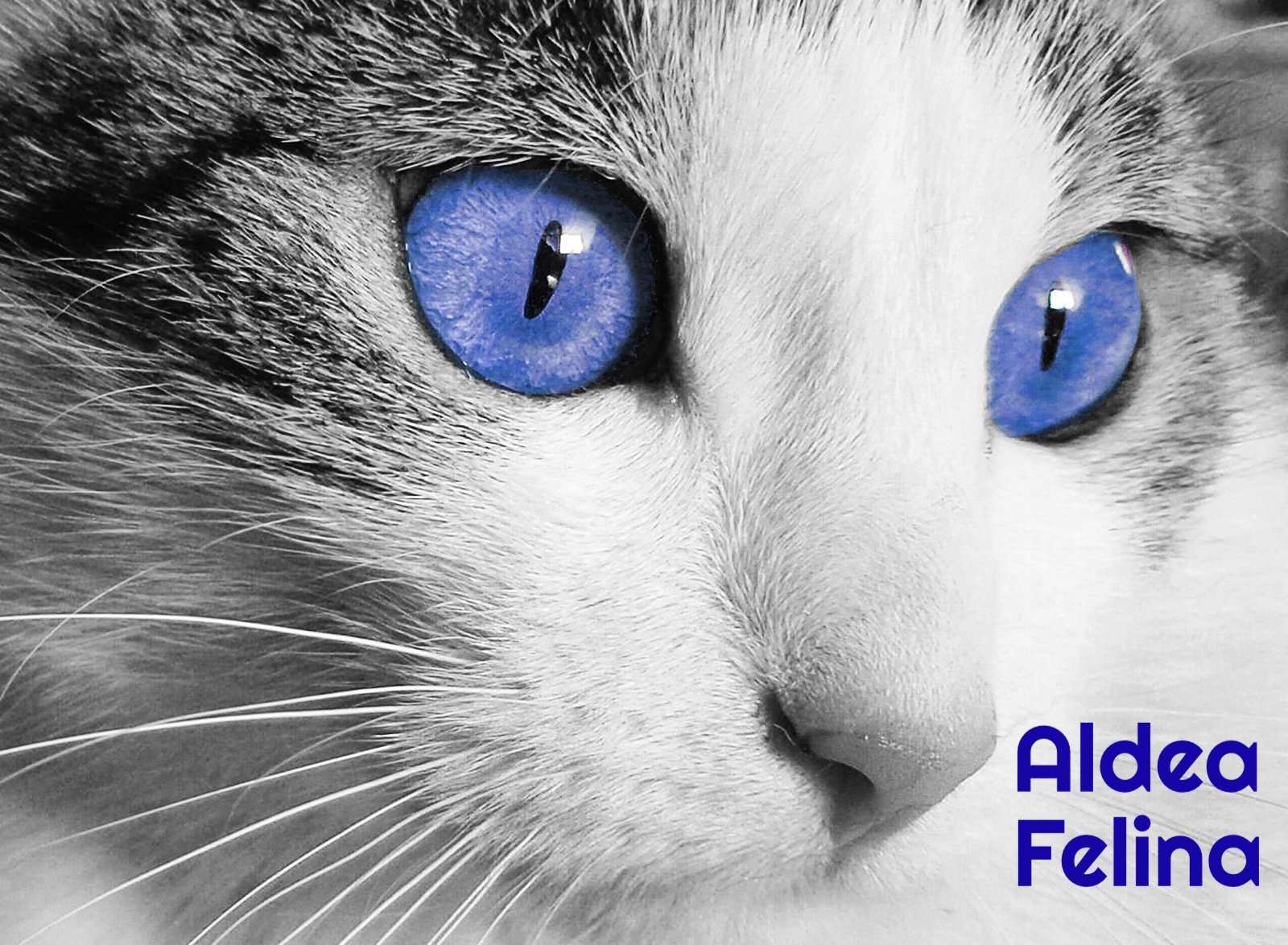 Con esta historia, mi hermana y yo esperamos encontrar un nuevo hogar donde podamos vivir como personas al aire libre (zona residencial rural o de tráfico tranquilo) o en un gran jardín asegurado.
Tenemos 2 años, un pelo como un tigre y nuestros dueños solían distinguirnos sólo por el color de los ojos. Mi hermana los tiene verdes, yo los tengo gris-amarillo.
Nuestro comienzo en la vida no fue muy agradable, porque fuimos abandonados en el cubo de basura cuando éramos niños y tuvimos que luchar por la supervivencia allí. Como había algunos colegas allí que eran mucho más grandes y fuertes que nosotros y nos dejaron poco de las sobras de la basura comestible, parecíamos muy demacrados cuando nuestros dueños nos encontraron en la basura un día de diciembre. Nos dieron su corazón directamente y se las arreglaron para atraernos a su casa con mucha paciencia (y comida). Allí estuvimos "castigados" durante las primeras semanas para acostumbrarnos a las nuevas condiciones de vida, para deshacernos de los parásitos y para hacernos un examen adecuado. Ahora no podemos tener más hijos, tenemos un chip, libres de parásitos y sometidos a pruebas de enfermedades de los gatos. Después del período de aclimatación se nos permitió finalmente explorar toda la propiedad y desde entonces podemos decidir si queremos entrar en la casa o más bien disfrutar de la vida en el jardín. Creemos que esto es genial, porque no queremos vivir como puros gatos de apartamento.
En cuanto al contacto humano, ambos fuimos muy críticos al principio, porque estábamos acostumbrados a huir de los humanos y a escondernos para que no nos pasara nada malo. Nuestros dueños trataron de ganarse nuestra confianza con muchas cosas positivas, así que nos dimos cuenta de que ya no nos pasaría nada malo. Por lo tanto, ya somos mucho más confiados que al principio. Somos brillantes, curiosos y juguetones, sólo que los recuerdos de nuestra vida anterior son todavía tan fuertes que nuestra primera reacción es huir y protegernos cuando vemos a extraños o escuchamos ruidos fuertes. Mi hermana es la más miedica de las dos y está muy orientada hacia mí. A veces también tengo que estar a su lado, porque nuestros dueños tienen otros tres gatos y de vez en cuando hay discusiones con la mayor de los gatos aquí, que es una dama. Entonces mi hermana nunca se atreve a abrir la boca y defenderse. Probablemente por eso es tan difícil para ella mostrarnos toda su encantadora personalidad, porque todavía carece de confianza en sí misma. Un poco "sensible, delicada" es mi hermana. Y es por eso que sólo existimos en un paquete doble, porque siempre hemos estado ahí el uno para el otro y tenemos una relación muy íntima los dos.
En cuanto a nuestro carácter, ya soy más valiente que mi hermana, muy ávida de conocimiento, poco a poco empiezo a responder a mis dueños cuando me hablan y ya no me parece mal cuando quieren tocarme. Mientras tanto, a menudo me acarician, porque mi suave pelaje anima mucho a acariciarme y me di cuenta de que esto es algo realmente genial! A mi tímida hermana también le gusta ronronear alrededor de las piernas de mis dueños cuando vamos a dar un paseo por el jardín. Pero necesita tiempo para superar su miedo a las manos humanas.
Desafortunadamente nuestra estancia aquí es sólo temporal, porque nuestros dueños emigrarán a Asia y no pueden llevarnos en un viaje tan largo. Ahora tenemos miedo de lo que será de nosotros si no encuentran grandes personas que quieran darnos un nuevo hogar con suficiente comprensión y paciencia. Estamos muy felices por el tiempo que se nos permitió pasar aquí y lo laboriosamente que siguen trabajando en nuestra confianza todos los días. Todo esto no debería haber sido en vano, porque deseamos tanto tener un nuevo hogar tan amoroso como el que tenemos con personas que nos quieran honestamente y nos permitan olvidar nuestro pasado. Esperamos que haya alguien ahí fuera que quiera darnos un futuro y si TU estás leyendo esto, quizás te sientas aludido...
Si desea conocernos, por favor envíe un correo electrónico a cats@aldeafelina.es. Para asegurar un interés serio, esperamos que entienda, pedimos una cuota de adopción.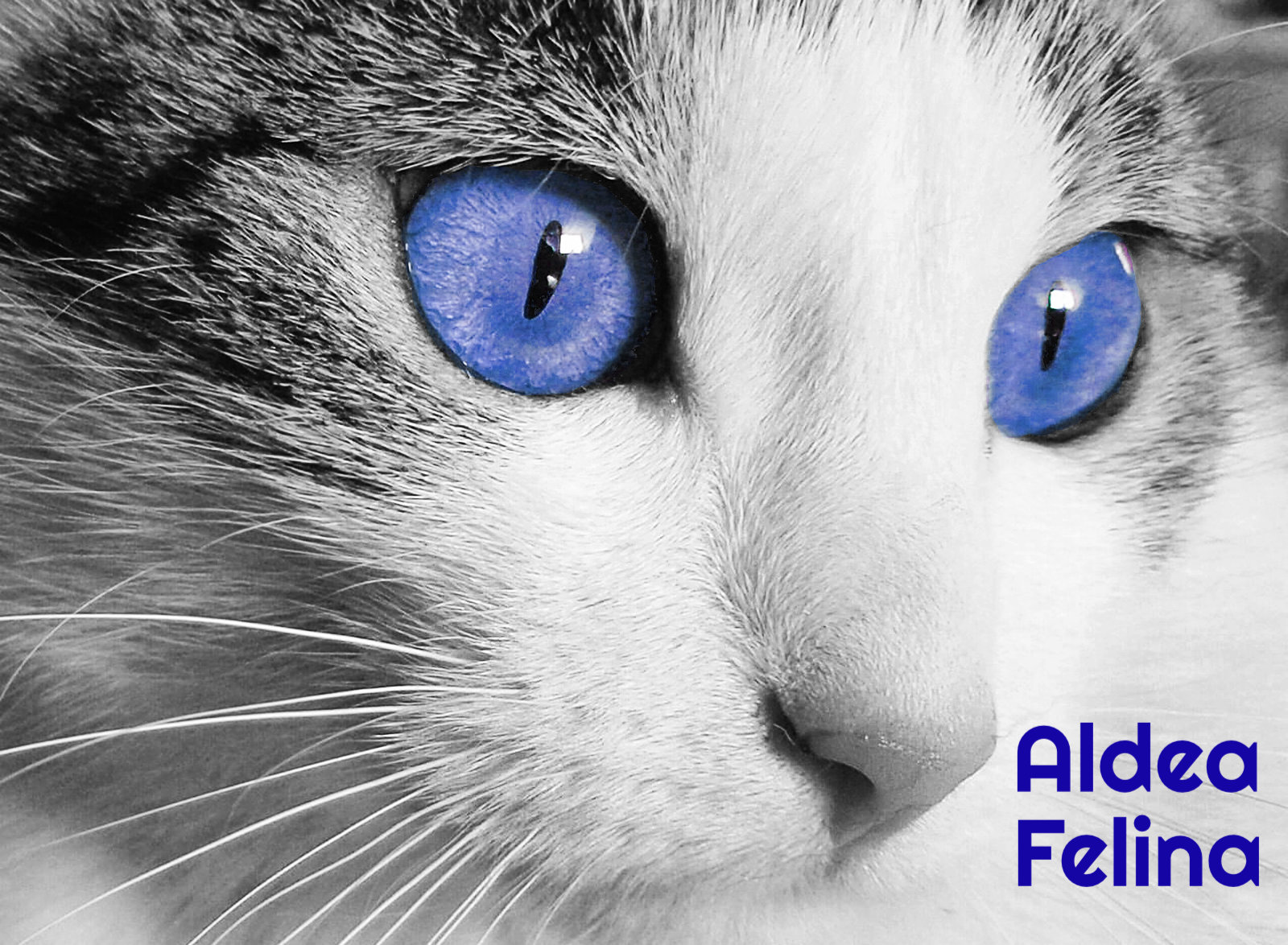 Rani und Shanti - can we dare hope for a happy-end?
With this story, my sister and I hope to find a new home where we can live together either as outdoor cats (on the countryside or traffic-calmed area) or in a secured large garden.
We are both two years old tabby ladies who look alike. My name is Rani, and my sister is called Shanti. At the beginning, our owners were just able to identify us only by the colour of our eyes. My sister has green, mine are kind of yellow-grey.
Our start in life was not very pleasant, because we were abandoned at rubbish bins when we were small and we had to fight for our survival. Since there were some other cats who were much bigger and stronger than us around, there was never enough for us to eat. That is why we were like skin and bones when our owners found us one day in December. These strangers gave us their hearts right away and managed to lure us into their house with a lot of patience (and food). There we were "grounded" for the first weeks to get us used to the new living conditions, to get rid of all parasites and we got a proper examination. Now we are neutered, we have microchips, are free of parasites and tested for cat diseases. After the acclimatisation period we were finally allowed to explore the whole property and since then we are able to decide whether we want stay in the house or rather enjoy life in the garden. We think this is great, because we do not want to live as pure house cats.
Concerning the human contact, we both were very critical in the beginning, because we were used to running from humans and hiding, so that nothing bad could happen to us. Our owners tried to win our trust with many positive things, so that we would realise nothing bad would happen to us anymore. Because of their hard work and patience, we are much more trusting than at the beginning. We are sprightly, curious and playful. Only the memories of our former life are still quite strong, and often our first reaction is to flee and protect ourselves when we meet strangers or hear loud noises. My sister is even more of a scaredy-cat then me, and is my shadow, never far from my side. Sometimes I also have to stand by her, because our owners have three other cats and from time to time there are discussions with the older lady cat here. Then my sister never dares to open up her mouth and defend herself. Probably that's why it's kind of difficult for her to show us her whole lovely personality, because she still lacks self-confidence. She is a little sensitive soul my dear sis. And that's why we only exist in a twin pack, because we have always been there for each other and we do have a very close relationship.
Concerning our characters, I am already more courageous than my sister, very eager for knowledge, I`m already "giving answers" to my owners when they talk to me and it is not the worst thing for me anymore when they try to touch me. As a matter of fact, meanwhile I enjoy to be cuddled. I have noticed that this is a really great thing to get! My shyly sis though purrs around my owner´s legs while we all are walking in the garden and seems to be willing to get a cuddle as well, but she still needs some time to get over her fear of human hands. She really had some kind of bad experience in the past I guess.
Unfortunately, our stay here is only temporary, because our owners will emigrate to Asia and can't take us on such a long trip. Now we are afraid what will happen to us if they don't find great people who want to give us a new home with enough understanding and patience. We are very happy about the time we were allowed to spend here and how laboriously our owners still work on our trust every day. All this should not have been in vain, because we hope so badly to find an equally loving new home with people who are really honest and can offer us a nice life. We hope that there will be somebody out there who wants to give us a happy future and if you are reading this, maybe YOU feel as though it could be you?....
If you would like to meet us, please email cats@aldeafelina.es. To ensure serious interest, we hope you understand, we ask for an adoption fee.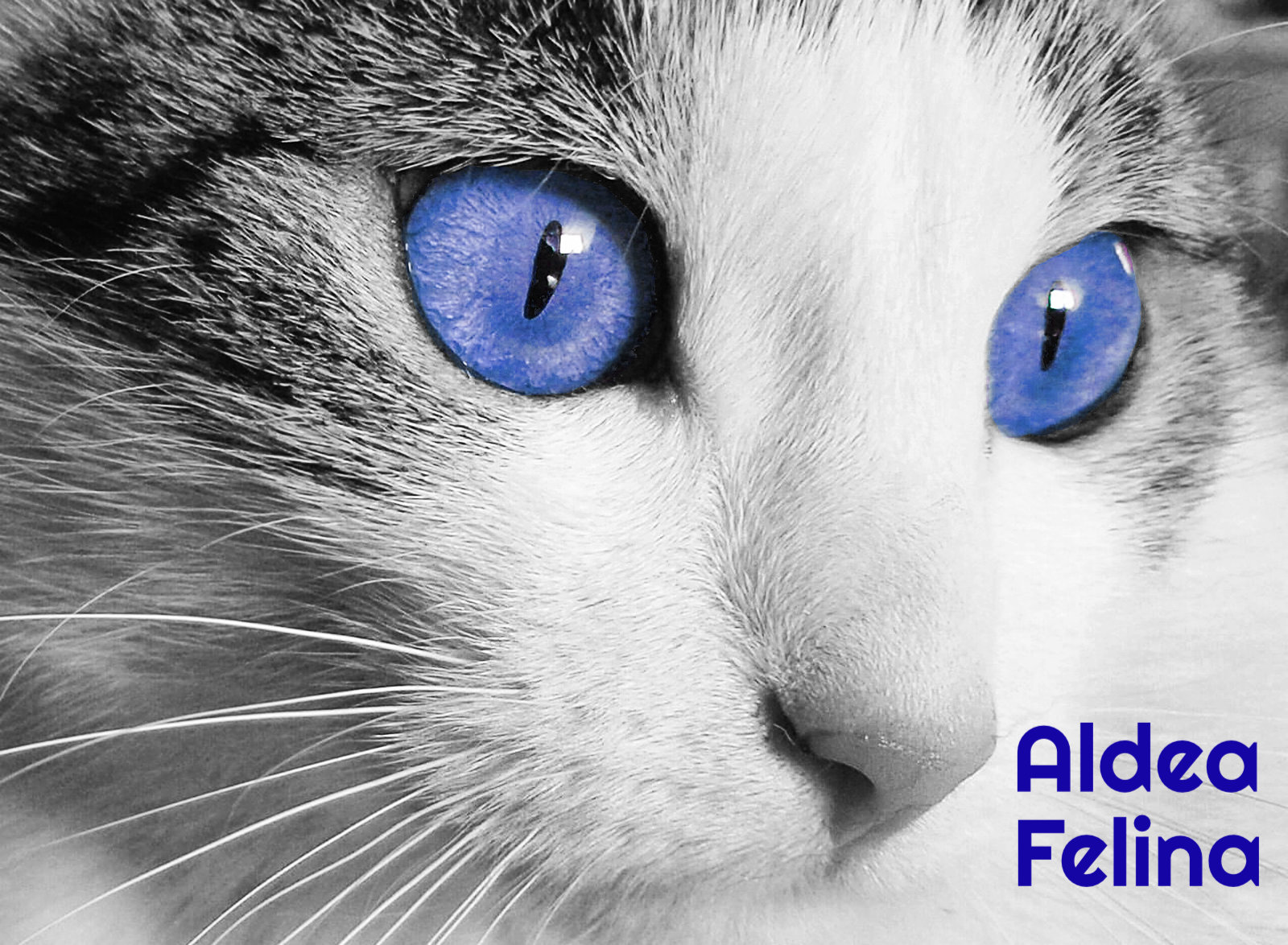 Dürfen wir auf ein Happy End hoffen?
Mit dieser Geschichte hoffen meine Schwester und ich ein neues Domizil zu finden, wo wir entweder als Freigänger (ländliche oder verkehrsberuhigte Wohngegend) oder in einem gesicherten großen Garten leben können.
Wir sind 2 Jahre alt, haben ein getigertes Fell und unsere Besitzer konnten uns früher nur anhand der Augenfarbe unterscheiden. Meine Schwester hat grüne, ich grau-gelb.
Unser Start ins Leben war nicht schön, da man uns als Kleinkinder an der Mülltonne ausgesetzt hatte und wir dort um das Überleben kämpfen mussten. Da es dort einige Kollegen gab, die weitaus größer und stärker waren als wir und uns wenig von den essbaren Müllresten übrigließen, sahen wir sehr abgemagert aus, als unsere Besitzer uns an einem Dezembertag im Müll fanden. Sie schenkten uns direkt ihr Herz und schafften es mit viel Geduld (und Essen) uns in ihr Haus zu locken. Dort bekamen wir die ersten Wochen "Stubenarrest", um uns an die neuen Lebensumstände zu gewöhnen, von Parasiten zu befreien und uns einmal richtig untersuchen zu lassen. Jetzt können wir keine Kinder mehr bekommen, sind gechipt, parasitenfrei und auf Katzenkrankheiten getestet. Nach der Eingewöhnungszeit durften wir endlich das ganze Grundstück erkunden und dürfen seither entscheiden, ob wir ins Haus wollen oder lieber das Leben im Garten genießen möchten. Das finden wir ganz toll, denn als reine Wohnungskatzen möchten wir nicht leben.
Was den menschlichen Kontakt angeht, waren wir beide anfangs sehr kritisch, denn wir waren es gewohnt vor den Menschen zu flüchten und uns zu verstecken, damit uns nichts Böses geschah. Unsere Besitzer haben mit vielen positiven Dingen versucht unser Vertrauen zu gewinnen, damit wir merkten, dass uns nichts Böses mehr geschieht. Dadurch sind wir schon um einiges zutraulicher als am Anfang. Wir sind aufgeweckt, neugierig und verspielt, nur sind die Erinnerungen an unser früheres Leben immer noch so stark, dass es unsere erste Reaktion ist, zu flüchten und uns zu schützen, wenn wir fremde Menschen sehen oder laute Geräusche hören. Meine Schwester ist der größere Angsthase von uns beiden und orientiert sich sehr an mir. Manchmal muss ich ihr auch beistehen, denn unsere Besitzer haben noch drei andere Katzen und ab und zu kommt es zu Diskussionen mit der älteren Katzendame hier. Dann traut sich meine Schwester nie den Mund aufzumachen und sich zu verteidigen. Wahrscheinlich fällt es ihr bisher deshalb schwer, uns ihre ganze liebe Persönlichkeit zu zeigen, denn ihr fehlt es noch an Selbstbewusstsein. Ein kleines Sensibelchen meine Schwester. Und deshalb gibt es uns auch nur im Doppelpack, denn wir sind immer füreinander da gewesen und haben eine sehr innige Beziehung zueinander.
Was unsere Charaktere angeht so bin ich schon mutiger als meine Schwester, sehr wissbegierig, gebe meinen Besitzern schon "Antwort", wenn sie mit mir reden und finde es auch nicht mehr schlimm, wenn sie mich anfassen wollen. Mittlerweile liebe ich es sogar schon beschmust zu werden, denn mein weiches Fell animiert sehr zum kraulen und ich habe gemerkt, dass das eine ganz tolle Sache ist! Meine schüchterne Schwester jedoch schnurrt auch schon gerne um die Beine meiner Besitzer, wenn wir im Garten spazieren gehen und schaut immer als möchte sie auch so gerne einmal gekrault werden. Nur braucht sie einfach noch etwas Zeit, um ihre Angst vor Menschenhänden zu überwinden.
Leider ist unser Aufenthalt hier nur auf Zeit, denn unsere Besitzer werden nach Asien auswandern und können uns auf so eine lange Reise nicht mitnehmen. Jetzt haben wir Angst was aus uns wird, wenn sie keine tollen Menschen finden, die uns mit genug Verständnis und Geduld ein neues Zuhause schenken möchten. Wir sind sehr glücklich über die Zeit die wir hier verbringen durften und wie mühevoll hier immer noch jeden Tag an unserem Vertrauen gearbeitet wird. Das soll alles nicht umsonst gewesen sein, denn wir wünschen uns so sehr ein gleichwertiges liebevolles neues Haus bei Leuten, die es ehrlich mit uns meinen und uns unsere Vergangenheit vergessen lassen. Wir hoffen, dass da draußen jemand ist, der uns eine Zukunft schenken möchte und wenn du das liest, vielleicht fühlst gerade DU dich angesprochen……
Damit sich auch nur wirklich ernst gemeinte Interessenten melden, werden wir nur gegen eine Schutzgebühr vermittelt. Bitte sendest Du uns eine E-Mail an: cats@aldeafelina.es